Developing a riding centre by upcycling inert soil
On 8 June ECT began a new site in the commune of Chevannes, which is in the département of Essonne. The purpose of this site is to re-use inert soils from the construction sites of the south-west of the Île-de-France region to create a horse-riding centre.
This equestrian project has been "eco-designed" in conjunction with the equestrian committee of the Essonne and the council of Chevannes. The objective was to define in advance the areas to be developed for horses and riding, and to set out how the site should be managed for the environment and biodiversity.
The goal is to create a full-featured, eco-friendly equestrian centre
This sports centre will cater for all equestrian disciplines. Bringing in soil makes it possible to create terraces on several levels. The terraces will provide a place for dressage arenas, and their flanks will be used for cross-country. The development is fully financed by upcycling the soil.
ECT is taking the opportunity of reshaping the site to promote the development of biodiversity. The various zones form part of a landscaping development of green space and wooded slopes.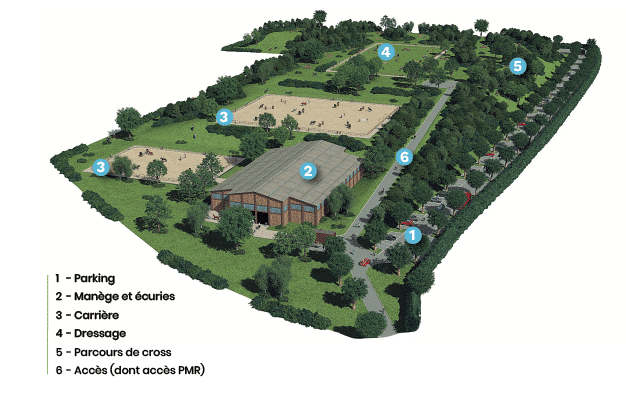 A number of different zones are included in the project. There are to be a manège or horse schooling area, stables, a clubhouse, and a car park with 100 spaces.
The project in figures
Project start date: June 2020
Duration of works: 2 years
27 acres of land reclaimed as an equestrian centre